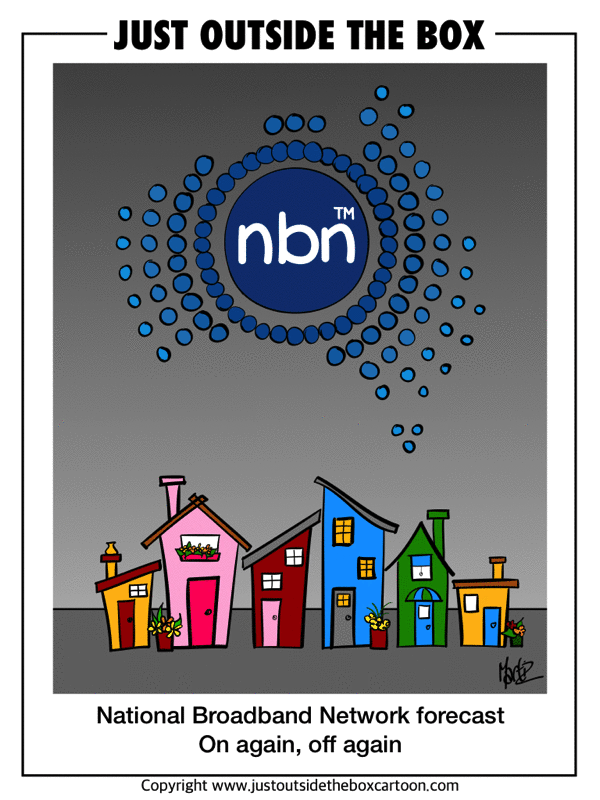 This is one of those cartoons where context is all. So if you don't live in Australia, you probably are not aware of the National Broadband Network (NBN) debacle currently going on here. According to NBN's website, NBN
"was established in 2009 to design, build and operate Australia's new high-speed, wholesale local access broadband network. Underpinned by a purpose to connect Australia and bridge the digital divide, nbn's key objective is to ensure all Australians have access to fast broadband as soon as possible, at affordable prices, and at least cost."
It's fair to say it has not lived up to their bold vision. Rather than go into the nitty gritty details, I thought these Newsline headings would provide a flavour of the issues faced.
"ACCC to review NBN after complaints about network soar… THE consumer watchdog has launched an inquiry into NBN Co's standard of service as complaints about the network continue to rise." News.com 2 Nov 2017
"NBN's constipation: Problems go much deeper than a lack of fibre…EVERYONE thinks they know the problem with the NBN. The truth is, it goes far deeper than we know – and it can't be fixed." News.com 25 Oct 2017
"Almost half NBN users report problems, with delays and slow speeds top hurdles." Courier Mail 23 Oct 2017
"NBN director Michael Malone says complaining customers should be sent 'to the back of the queue" Business insider, 30 Oct 2017
From my perspective, I only wish we hadn't converted. Our internet drops out regularly (2-3 days vs once a month on the old system) and often when it's running, the bandwidth is so tight that only one person can use it at a time.  Bring back the good old days, I say…
What do you miss from the 'good old day'?