Cook Wash Dry Repeat tea towel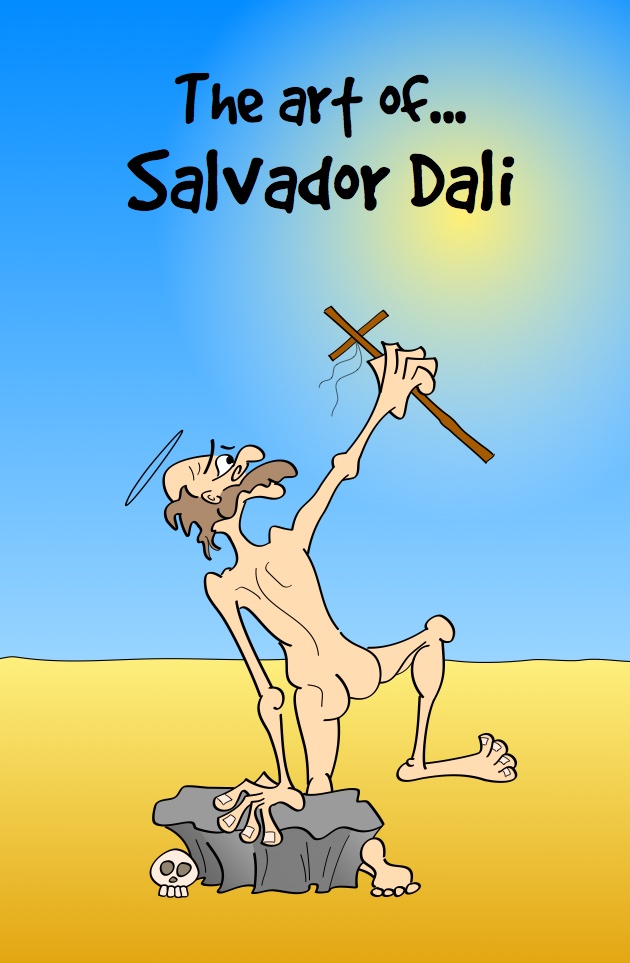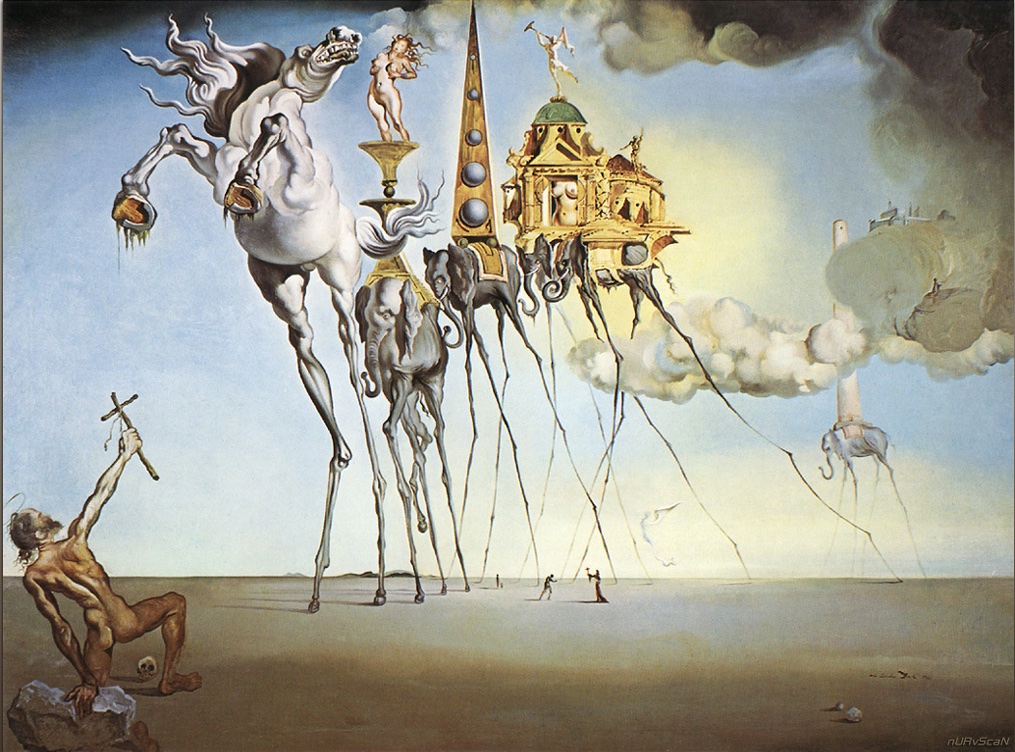 "Surrealism is destructive,
…but it destroys only what it considers to be shackles limiting our vision"  Dali
If this is the case, then Dali certainly achieved this through his painting, The Temptation of St Anthony. Unlike prior historical paintings by other artists, Dali's surreal approach created a work full of symbolism and metaphors. St Anthony bears the cross; symbolising Christianity and the enlightenment of true faith. The cross is held up high and is the only thing between him and the temptations ahead.
The horse, a symbol of strength and voluptuouness, leads the parade of elephants. Each elephant carries a form of temptation. The first, has a bare breasted woman standing tall and fortright in the chalice of lust. The second elephant carries an obelisk, tall and phallic. The third elephant hauls a building with houses another nude woman, but we only get a tantalising glimpse of her torso. The animals are all elongated and almost weightless with long spindly legs.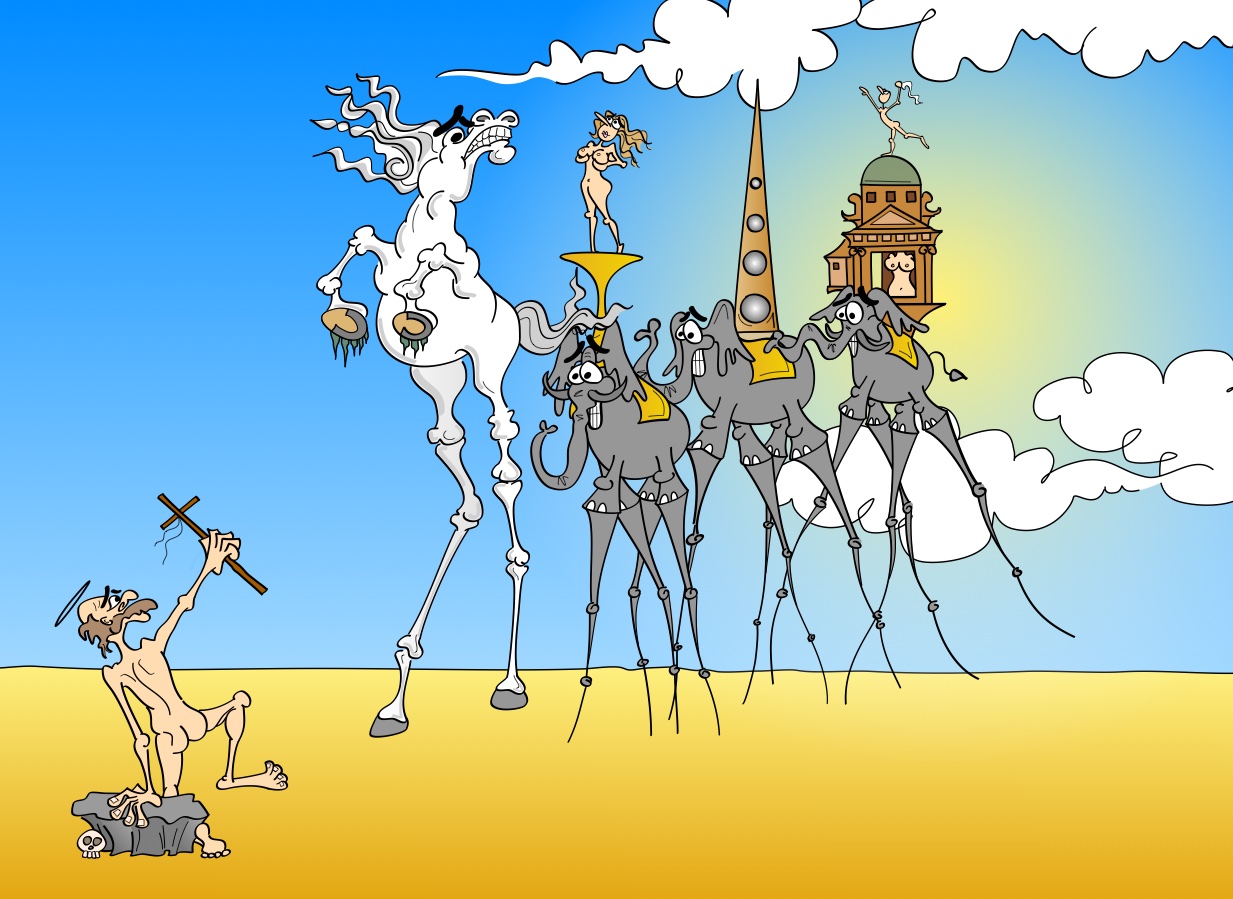 Historical context of St Anthony
St Anthony gave up all his worldly possessions to lead the life of a monk. What possibly made him quite famous amongst other monks at the time, was that he sought solace by heading to the desert; the geographical isolation allowing him to concentrate solely on his faith. There it was said that he endured various sinister temptations.  His struggle and temptation has inspired literature and the arts over history and Dali was not dissimilar to his predecessors from that perspective. He had a fascination between heaven and earth and this painting allowed him to explore that in more detail.
In the words of Salvador Domingo Felipe Jacinto Dalí i Domènech himself,
"When I paint, the Sea Roars. 
Others Splash about in the bath"
Love him or hate him, you can't deny his imagination, vibrancy and artistic interpretations.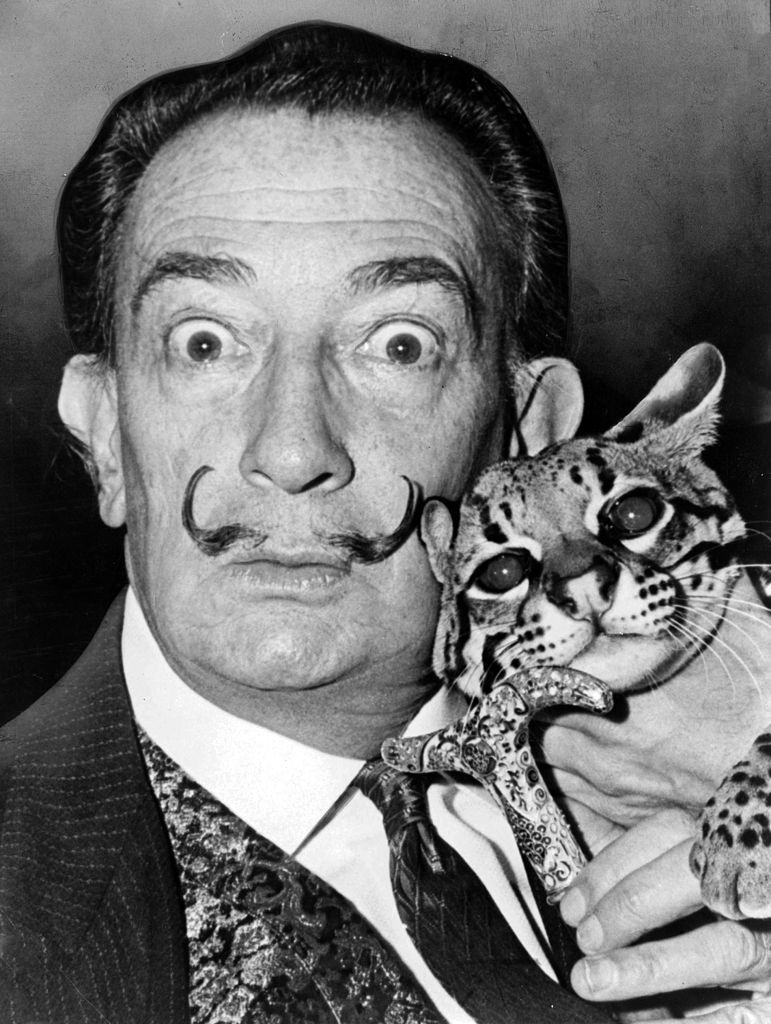 Salvador Domingo Felipe Jacinto Dalí i Domènech 1904 – 1989). Credit: New York World Telegram and Sun, 1965
Did you know?
In 1946 the Loew Lewin film production company held a contest, inviting 11 leading artists of the time to participate. The theme was St Anthony's Temptation, with the winner to be used in the film The Private Affairs of Bel Ami. The German artist Max Ernst was the declared winner with his work duly shown within the film. However, the most well-known entry from the competition is undeniably the one painted by one of the failed contestants, Salvador Dali.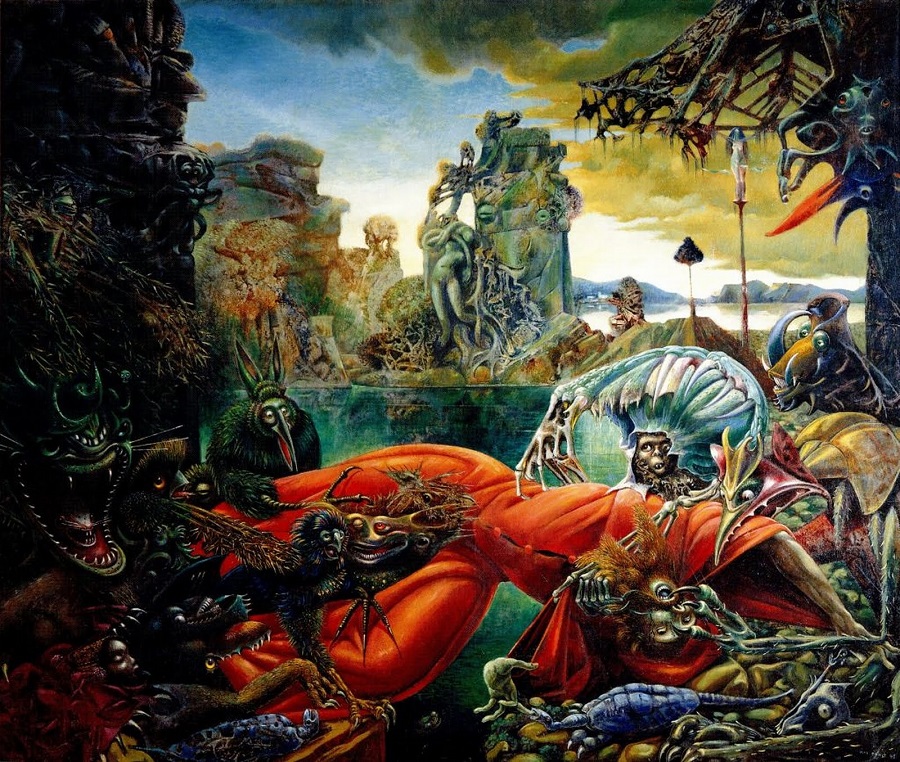 Temptation of St Anthony by Max Ernst, 1946
St Anthony reinterpreted through modern day life when he takes a selfie
Buy a mobile case from my S6 store
Cook Wash Dry Repeat tea towel
Temptation now incorporates youth, symbolised with the addition of time and the grandfather clock
Buy this Dali clock from my S6 store
About 'The Art of Series'
Timeless art favourites are interpreted through a cartoon filter and transported into everyday modern life. This project fuses famous art and everyday life by incorporating the actual product within the context of the art. Take a closer look and you'll notice each product has a slightly different element subtly incorporated within the drawing. In this way, I hope to bring some fun to everyday life