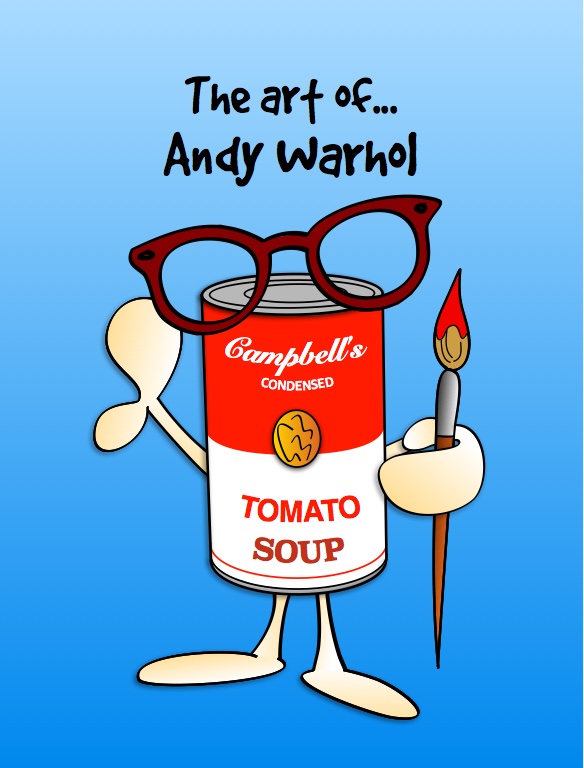 Andy Warhol was the epitome of the pop art movement in the 1960s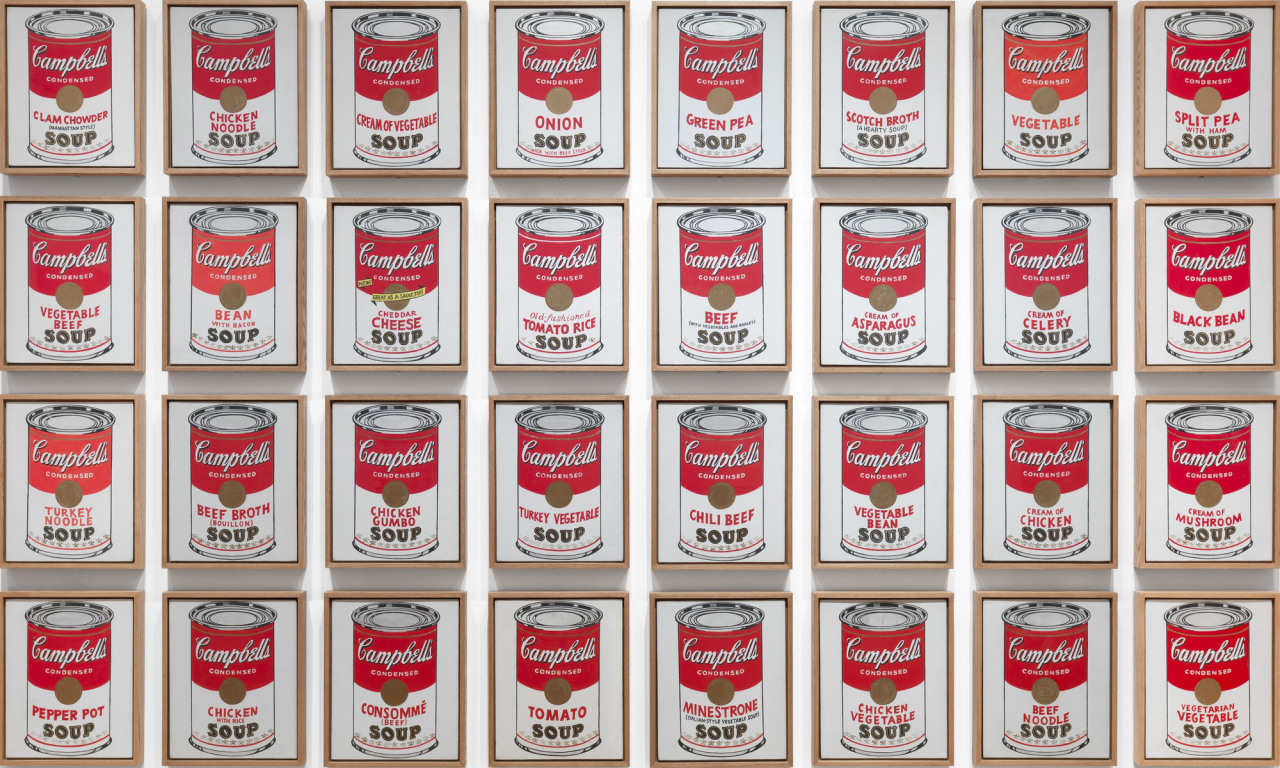 Undoubtedly, Warhol's initial career as a commercial artist,
helped prepare him for the pop art movement, where traditional art and all its high society egalitarianism, was challenged through the eyes of consumerism. His art of everyday life was a reflection of the modern world and mass consumption. The iconic Campbell's soup can has become synonymous with Andy Warhol and the pop art era.
Many know of the tomato soup tin painting but don't realise that it initially was part of a series set called 32 Campbell's soup cans. In his first 1962 exhibition, the work was displayed in a line, as if sitting on a supermarket shelf. Only a few pieces were sold. Although the exhibition was not a huge financial success for Warhol, it resulted in the best publicity an up and coming artist could wish for. The art community was up in arms debating what is art, using the work such as the tin cans, as the centre of debate. The controversy ultimately helped propel Warhol into the lime light and history books of pop culture forever more.
Considering the time, it was no surprise that Campbell's soup had initial reservations about having their work presented by a controversial person. However, after a wait and see approach, the company realised that it was a once in a lifetime marketing opportunity. Indeed, a letter was sent to Warhol by the Marketing manager of Campbell, stating
'…I have since learned that you like  Tomato Soup.'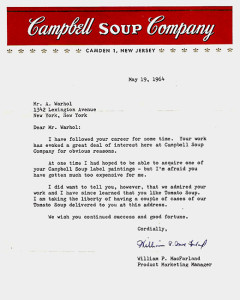 He ended the letter, stating that he has taken the liberty of sending a couple of boxes of tomato soup to the Warhol's studio address.
From there, the relationship between Warhol and Campbell was set and continues today with the two being closely associated with each other.
On the 50th anniversary of the paintings, Campbell's released a special edition Warhol inspired tomato soup can set. Four cans were designed with the signature block coloured silk screen style and sold for 75 cents each in Target stores. The relationship had gone full circle from Warhol being inspired by Campbell and now Campbell being inspired by Warhol.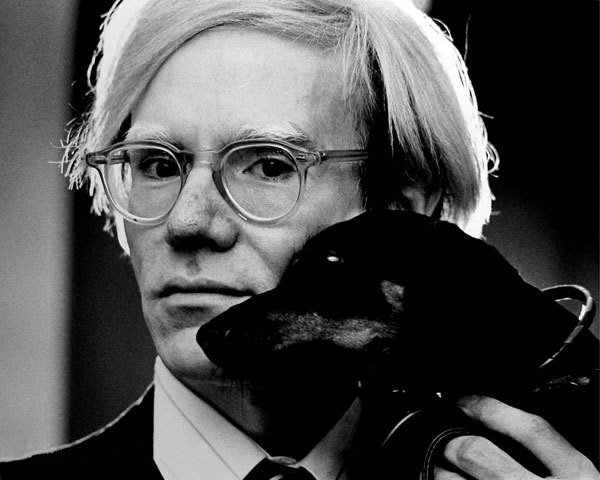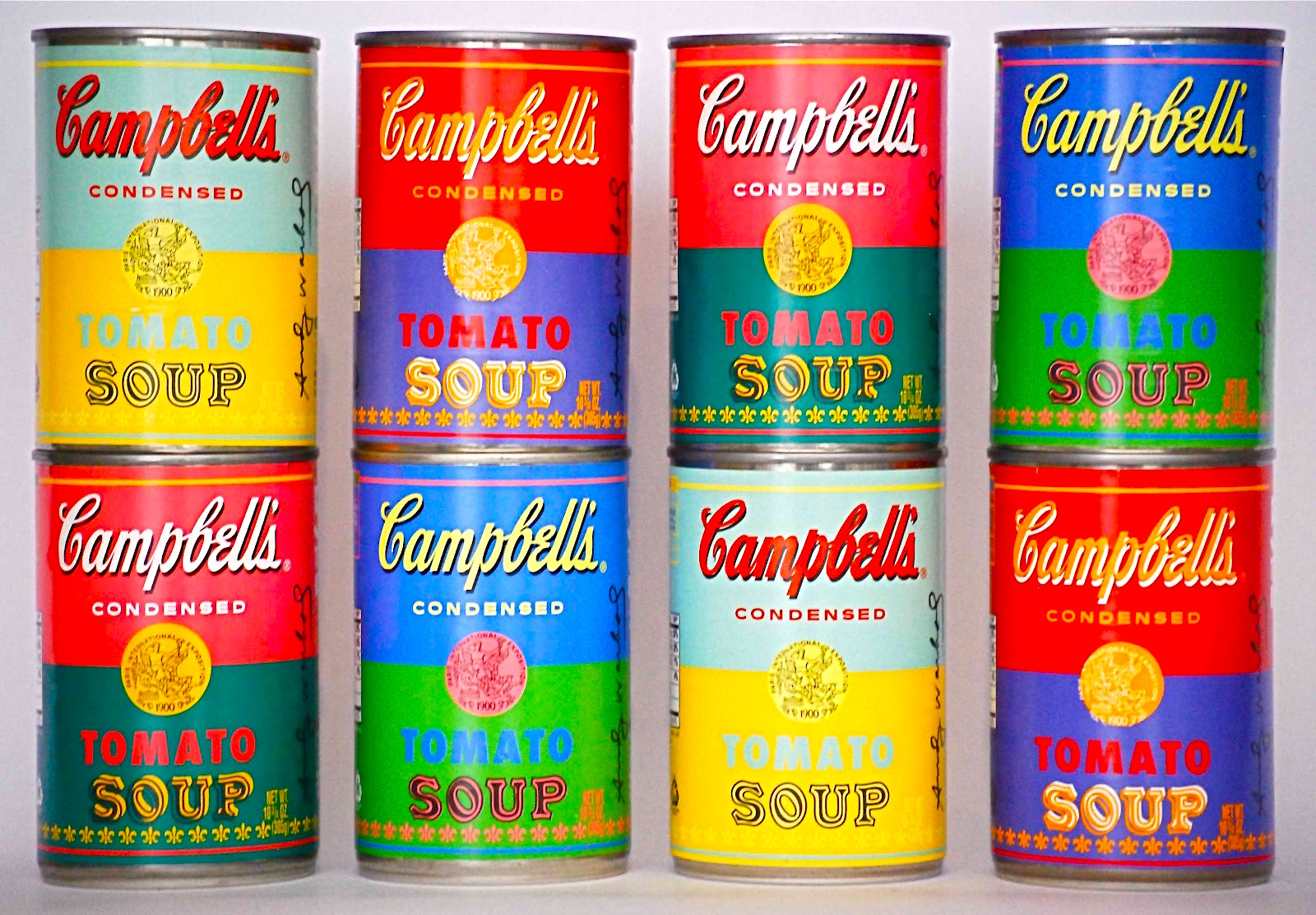 Did you know?
The original 32 Campbell's soup cans sold only a few pieces from the set at $100 each. Blum, the art dealer who was behind Warhol's exhibition, felt afterwards that they would best be kept in a set and arranged to by back those that had been sold. Warhol was pleased with this, as he felt that they were best kept as a collection.
He agreed to sell them to Blum at a cost of $100 per month, over 10 months. Yep, what you would now consider a mere $1000. Blum later sold the set to The New York Museum of Art for $15 million in 1996 and was considered part donation part sale.
The Art of Everyday Life
Available on Society 6 online shop